Touch Free Hand Dryers are More Sanitary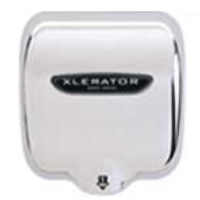 As all responsible business owners know, the customer must be comfortable with your establishment in order to maintain their patronage. And comfort goes way beyond seating or decorating.
Comfort also means that customers must know that you are aware of health issues, up to date on all possible remedies if needed and diligently strive to maintain a healthy establishment. This also includes instructing employees on the proper way to handle food as well as thorough cleaning practices in order to reduce the chance of germs spreading.
One way to help maintain a sanitary environment is to install some touch free devices in the rest rooms. Some of these items can be overlooked when you are inspecting the area looking for ways to improve the cleanliness of your business. For example, many businesses have touch free faucets and toilets, even touch free trash cans. But many times the hand dryer is not considered because it has replaced the less than sanitary continuous loop towel that hand dryers used to be equipped with. However, even without the towel aspect germs can be spread by pushing the lever to release more paper towels, etc. That is where a touch free hand dryer would come in as a more sanitary alternative to towels.
Owning your business or even working at one as an employee means that you have a responsibility to the people you serve, such as giving them the right to expect that your business is handled in the most sanitary way possible.