Touch Free Trash Cans

NUMBER ONE SELLER
Model S42L or 13 gal trash can is 15.7 in. (L) x 12.6 in. (W) x 25.2 in. (H) Perfect for cafeteria, restaurants, kitchen, clean room
Model S65L or 18 gal trash can is 18.6 in. (L) x 17.8 in. (W) x 27.8 in. (H) With wheels-size 18.6 in (L) x 17.8 in (W) x 29.4 in (H) Wide Handles for easy movement (Wheels are optional ) (AC Kit is Optional)
Never before has a trash can taken on such an artistic feel. Perfect for lobby, restaurants, hospitals, kitchens. Stainless Steel
Model S80L or 22 gal trash can is 18.6 in. (L) x 17.8 in. (W) x 32.2 in. (H) With wheels-size 18.6 in (L) x 17.8 in (W) x 33.8 in (H) Wide Handles for easy movement (Wheels are optional ) (AC Kit is Optional)
Never before has a trash can taken on such an artistic feel. Perfect for lobby, restaurants, hospitals, kitchens. Stainless Steel
13 gal Stainless Steel Touch Free Trashcan Price: $99.99
22 gal Stainless Steel Touch Free Trashcan Price: $249.99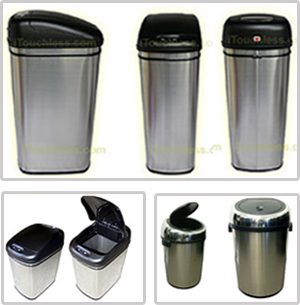 AUTOMATIC TOUCH FREE TRASH CANS
SENSOR SENSES YOUR HAND OR TRASH AND THE LID AUTOMATICALLY OPENS.
WALK AWAY THE LID AUTOMATICALLY CLOSES.
USES 4 STANDARD D SIZE BATTERIES
Stainless Steel Trash Cans
Model S24L or 7 gal trash can is 14.6 in. (L) x 10.7 in. (W) x 18 in. (H) Perfect for laboratory or bathroom, living room, baby room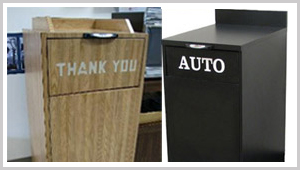 Makes any existing large trash can touch free. Installs in less then 15 minutes, AC or DC. Lid works normally but will also will open automatically and close automatically.
Has a bright LED light to let your staff know the can is full. No more running over to the can to see if the can is full, the light will tell your staff it is time.
Full One Year Warranty
To the left is the perfect trash bin for fast food, malls, hospitals new buildings. All in one unit AC or DC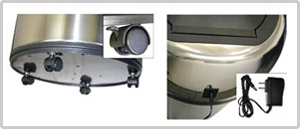 AC or Wheel Kit for the 18 or 22 gallon trash can
Optional Wheel Kit and A/C Kit Price: $19.00